Editorial
PALM LabEX moves into its second phase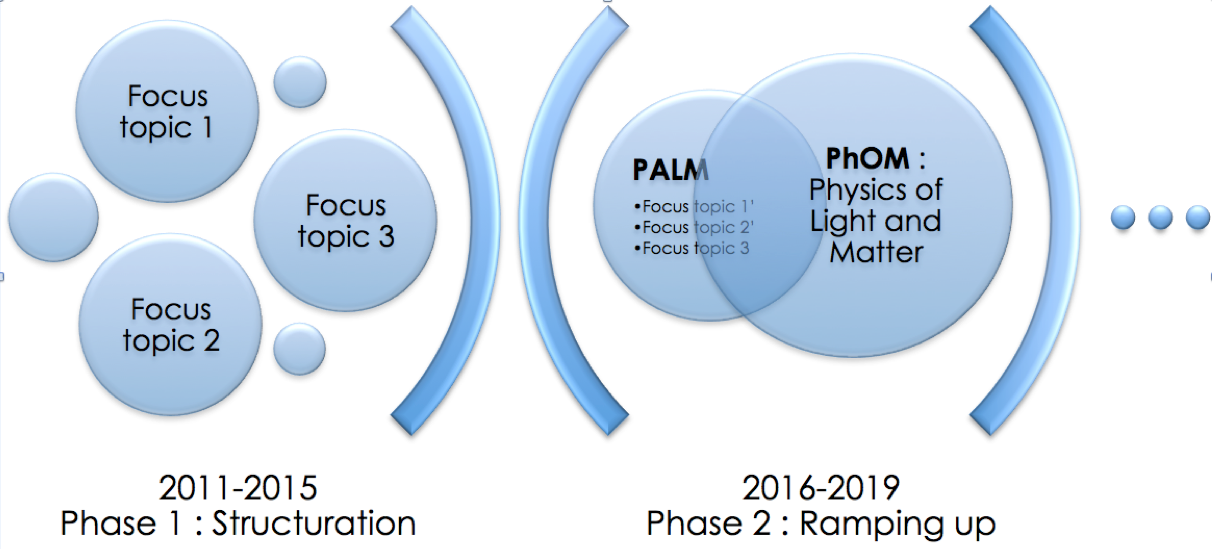 PALM Labex is an eight-year project. The first phase of PALM will be over with the end of the IDEX's probationary period on February 29th, 2016. Its second phase (2016-2019) inaugurates a period of transition characterized by the upscaling of the Université Paris-Saclay. The LabEx possesses real advantages which enable it to be a major motor during this period. Indeed, its 3 priority themes (cf Box): Quantum Matter, Complex Systems, High-Speed Dynamics constitute the frame of three of the seven poles of the future department PhOM (Waves and Matter Physics). No doubt that the actions " education" and "promotion" will be as integrated in the future university as the past and future actions of our LabEx, and will arouse a real interest.
In this context, many interrogations remain: what funding tools? what tools to structure the community? will the LabEx set a precedent? Endowed with a bit more than 6 millions euros for the next four years, that is to say 40% of the initial budget, PALM will keep acting as a stepping stone to major initiatives and putting together in synergy research teams of different laboratories and teaching teams of different institutions. The theme 2 opens up to the physics/biology interface which was treated in the theme emergence. This is the most striking evolution in a context of continuity entailed by the excellent evaluations at the end of the first phase.
In order to prepare the second phase of PALM, the themes departments have initiated last year a process of reflection aiming at precising the outlines of the priority themes. This evolution of the themes, the most important of which being the evolution of the second theme, has been approved by the international scientific council and the international jury set up by the ANR. The theme Emergence is maintained: its role consists in supporting the innovating ideas presenting elements of risk, which do not belong to the core of the priority themes.
Theme 1 : Quantum Matter: from elementary systems to strongly correlated system
The reinforcement of the interface quantum optics / condensed matter physics, which was initiated in the first stage, is thus put forward.
Theme 2 : complex systems: from out-of-balance systems to biological matter
This theme opens more widely to the interface physics/biology which was previously dealt with in the theme Emergence.
Theme 3 : High-Speed dynamics: from radiation sources to multi-scale responses.
The wording has not changed ; it is about carrying on the structuration of the community around the great installations (SOLEIL, the EquipEx CILEX et ATTOLAB, le LiDEX OPT2X ...)
International Conference on Quantum Computing
Du 26 au 30 novembre 2018
ENS Paris

Réunion Plénière du GDR EMIE
Du 12 au 15 novembre 2018
Domaine de Chalès

Workshop Physics of X-ray and Neutron Multilayer Structures
Du 7 au 9 novembre 2018
Campus EDF (Palaiseau)


International workshop on WaveFront Sensing and Control
Du 22 au 24 octobre 2018
16th International Conference on the physics of Non-Ideal Plasma
Du 24 au 28 septembre 2018
Workshop sur les fullerènes cosmiques 2018
Du 19 au 21 septembre 2018
Amphi Blandin du LPS (Orsay)
Circuit et matériaux quantiques
Du 11 au 14 juin 2018
Université Paris-Sud (Orsay)
Circuit et matériaux quantiques
Les 5 et 6 juin 2018
Domaine St Paul (St Remy Les Chevreuses)
International Conference on "Novel nanomaterial: engineering and properties"
Du 18 au 20 décembre 2017
6th International Meeting on Silicene
Du 13 au 15 décembre 2017